Nintendo Collector v2.1 is now available for download.
Download Now!
MattMan/Nintendo/NintendoCount/click.php?id=Nintendo_Collector2_1
For Windows XP/Vista/7/8/10 Only
Information
Description: The Nintendo Collector is designed to help keep track of your video game collection for the original Nintendo NES, SNES, N64, GameCube, Wii, Wii U and now GameBoy, GB Color, GB Advance, DS, 3DS, and even the Virtual Boy and the Game & Watch series!! With over 7000 games and images already added for you to select and add to your collection, and the ability to add games that may not be in the list. Also, you have the ability to create and restore a back up of your collection with just a click of the button. Nintendo Collector makes it easy to keep track of all your games.
Version: 2.1
File size: 201mb
Released Augest. 21, 2018
Price: Free
Works on: Windows XP/Vista/7/8/10
Windows Media Player 7.0 or Above Required
Version 1.7 for Windows 98 or ME download here
MattMan/Nintendo/NintendoCount/click.php?id=Nintendo_Collector1_7_98_ME
Windows 98 & Me may require VB Run Time Files get them here
http://support.microsoft.com/kb/290887
1.7 is the final release for 98/ME no more updates will be available.
Important: Updating from v1.0 - 2.0 ?
If your updating from 1.0 - 2.0 to 2.1 and you have already made your list be sure to make a back up before updating. Once your back up has been made uninstall Nintendo Collector 1.x - 2.x. Don't worry it won't uninstall your back up list! After uninstall has been completed then install 2.1 into the same Dir you did previously. If you installed 1.x - 2.x into the default Dir simply do the same with 2.1. Now start the program and restore your back up by clicking on the "Restore Back Up" button. You should see your list! XP/Vista/7/8/10 users will need to import old backups if updating from 1.0 - 1.6 before restoring.
Screen Shots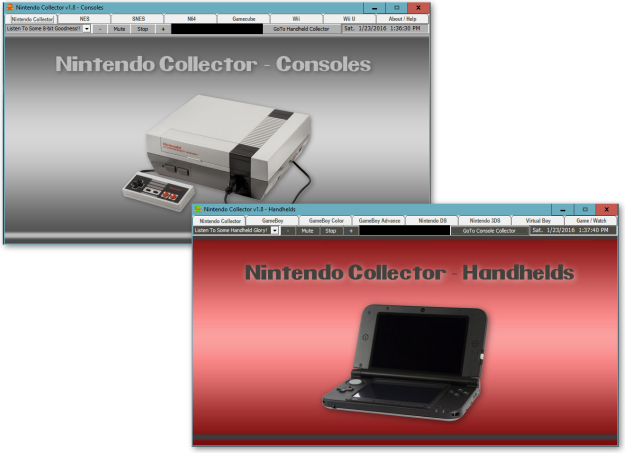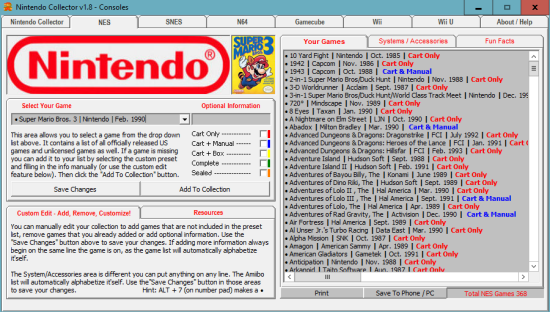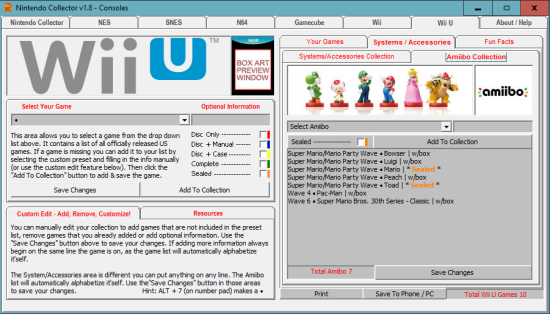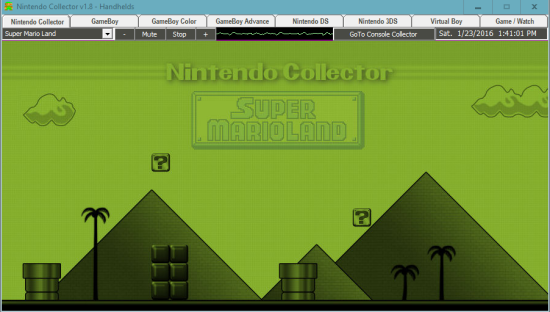 More screenshots can be seen at
MattMan/Nintendo/home.html
How To Video For v1.8 - v2.1